VastLands
Play custom Minecraft: Pocket Edition games only on Vastlands!

Howdy VastLanders!
The release of VastLands was just a few days ago! for the past days,
we've been getting a lot of support from the community!
In the following recent days, I've been squashing all the possible bugs
that was found and reported to us via the forums.
Below is a list of updates/bug fixes that were implemented.
▶ Changes
Fixed an issue where the top faction's power NPC was not visible
Completely rewrote the whole claiming system for Factions!
Added a working farming system!
Enchants no longer stack
Players can no longer fly if in the warzone
/f create now opens the creation menu!
The merchants now give items with a custom name if supported
Kit names have been renamed.
Added obsidian in the in-game merchant!
Auto Server Restarter [every 2 hours]
Performance improvements!
▶ Bug Fixes
Fixed an issue where the top faction's power NPC was not visible
Fixed a death bug
Fixed Power Levels not updating
Fixed "/tpa accept" not removing requests after accepted
Fixed an issue with the world border
Fixed players getting reverted while moving
Fixed an issue that was causing lag spikes
Fixed an issue that causes some players to get kick fly flying
Fixed an issue that causes Obsidian to turn into "Update Blocks"
Enchants will no longer get stacked, which was a cause of having it glitched
Fixed AuctionHouse not letting anyone buy items
Fixed an issue where Factions Leader+ were unable to invite members
Fixed spawners causing players to get stuck on the loading screen forever!
Fixed factions allies being able to attack each other!
Fixed spawners causing clients to crash!
▶ Our Discord!
Yes, I've completely cleaned our discord server and made things easier as possible!
For example, you can view someone's VastLands profile with the following: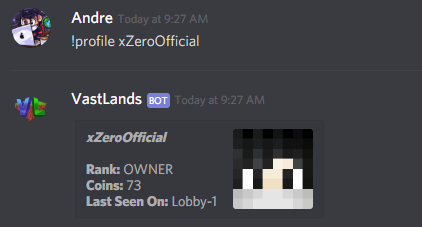 If you're in a faction, it will look similar to this: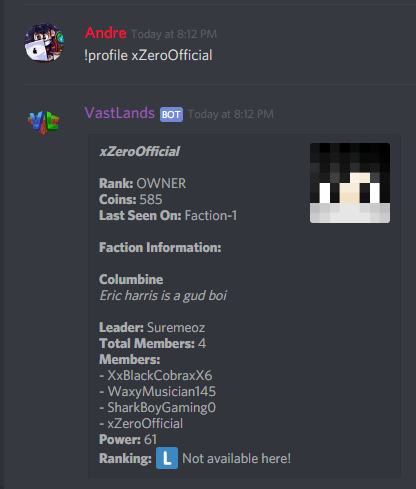 If you're not in our discord, I recommend that you join us!
Our discord is a quick way to get in touch with us and the rest of the
fellow VastLanders! Our discord invite is always the same, just navigate over to
discord.vastlands.net
Furthermore, you can also do it through our forum!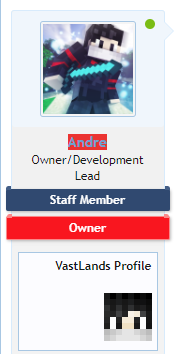 Just click on their "VastLands Profile" Skin
on the user, you wish to view their profile and that will take you to their
profile. Which will list basic things like their Rank, Last Seen Server, etc.
▶ Thank you!
We've like to thank all those that reported bugs and
suggested any features. Lastly, anyone that plays VastLands!
We're here for you, we love to hear your suggestions
via the appropriate section. You can expect us to fix
every single reported bug, and release better contents for
VastLands!​
Hellooo VastLands players,
The time has come for the release of our first game mode, factions! We've been working hard the past month in producing and developing this content for you all to enjoy, and the wait is now over! Join our servers to see our gorgeous new hub, along with our entirely custom factions game mode featuring some of the following things:
Upon joining the server, you will be prompted to select a class of your choosing. We have five classes for you to choose from, all with a specific perk that will help you throughout your journey! Let us know which class you chose by replying to this thread!
On VastLands factions, each player has their own power level! You can increase your power level by simply killing other players, killing bosses that spawn in the WarZone, completing quests and even by breaking/placing blocks! Increasing your power level also increases your faction's overall power level.
We've developed a custom Mob AI along with bosses that will automatically spawn in the WarZone! Kill bosses for loot and to increase your power level, but beware; bosses can strike fatal blows if you're not wearing the right gear!
Every two hours, you'll find that CarePackages automatically drop into our WarZone. In CarePackages, you can find Engrams that come in different rarities. From common-exotic, they each contain some nice loot! To get those engrams decoded, simply take them back to the Crate Master at spawn for decoding! They will be decoded and you will receive whatever loot comes from them; it's like winning the lottery!
Have that naughty person you need taken out? Use /bounty or interact with our Bounty Hunter GUI to place a bounty on another player! Placing a bounty on another player will broadcast a message to all players on the server and will be viewable on our bounties menu, ensuring that someone will take out the targeted player with your preferred kill method! Or are you a bounty hunter yourself? Take a look at our bounties menu frequently to see who's offering the most for a kill.
Our auction house is available via our Auctioneer NPC or /ah! In our auction house, you'll be able to place items up for sale to other players! Further, you can browse the auction house menu to see what items other players on the server have up for sale! It's up to you to decide!
Quests are also available via a NPC and a command, /quests! You'll find that there are several quests available for you to complete. Each quest gives their own reward, but almost all give power level upon completion. Complete quests to increase your power level as well as get some other goodies!
As I've mentioned numerous times, we've custom coded all of the features you're seeing on our servers. With that in mind, we've came up with a unique factions management layout and some pretty cool features! At any time, you can use /f to view factions management or /f help if you need to see a list of commands at your disposal! We've got some custom goodies in store for you, along with a 4-rank design including: Leader, Officer Plus, Officer & Member. You'll have access to more commands and more power as your faction officers may decide to promote you! A big part of your faction is your faction's power level. Your faction's power level is determined by adding all of the player power levels in your faction and dividing that number by the amount of people in your faction. Everyone is able to contribute to increasing their faction's overall power level!
Yes, we do have custom enchants as well! You can find them at spawn, of course, where you can click a NPC to find a list and what each does. There is a pretty hefty price on them, however!
Raiding is going to be exciting with our custom creeper eggs! You'll see that when you place an egg, a status bar will appear letting you know when the creeper is going to explode. It has never been easier!
We will have rewards for our top three factions every season! These rewards are TBD, but there are some incentives to being a top faction other than pure bragging rights, of course!
Yes! We've partnered with some fantastic YouTubers such as PatarHD123, EddieMCPE, GamingWithKen, Noahcraftreal and many more coming later down the road. You can play on our servers with some pretty amazing content creators; check out their videos!
Lastly, we are running a 25% OFF SALE for a LIMITED TIME ONLY. Ranks, coins, engrams, etc. are all on sale. Get them cheaper while you can!
This is just an introduction to some of the features that we've added for our season one release of factions; we will be continually adding new things as time progresses. Make sure to try out the server and give us any feedback on this thread. We hope you all enjoy the server!
play.vastlands.net
Why hello there, fellow VastLands players!
I know it has been quite a while since you've heard from us officially here on our forums or on Discord. First off, I'm Assassind312, one of the Owners and Managing Director of VastLands! It is unlikely that you know me as of now - that's because, well, I've been working behind-the-scenes for quite some time now on a variety of projects for VastLands! To quickly introduce myself, I've been a part of the MCPE community since 2015 and have been a fairly active member ever since. Along the way, I've had the opportunity to gain experience as a staff member in many different servers, from small to big, startup to some of the biggest servers in Minecraft. I'm beyond excited to be working (officially) in helping to make VastLands provide the very best experience for you! I'm going to be working my hardest to do just that, primarily working behind-the-scenes to produce content that is going to maintain VastLand's reputation of being a very fun and unique network. We have a truly amazing team and are very much excited and dedicated for the future and success of Vastlands - we hope you are too!
Now that the boring part is over, I'm sure you're all eager to hear what we have planned for the future of VastLands. I am thrilled to announce that development of our newest game mode, factions, is well underway! We have been working hard this past month in designing and developing some great content for you all to enjoy! You can expect an entirely re-written and custom factions experience like no other Bedrock server out there. We can also promise that moving forward, we will strive to provide the utmost transparency and dedication toward the improvement and continuous development of VastLands. Further, all player ranks will most definitely be restored. We have so much in store for you and we can't wait to share it all with you in the very near future!
Keep an eye on our social media accounts, and if you aren't already, be sure to join our VastLands Official Discord at
discord.vastlands.net
Greetings fellow Vastlands players,

This mass message was sent to EVERYONE regarding staff applications. I will only be reviewing applications that were made AFTER the merge between SkyCastia and Vastlands. That will be from the time stamp of January 14, 2018 and so on. If you have an application before that date please re apply, you have 1 week before these applications will be trashed and moved. This is to make sure that we have active staff members who we accept and not old members who have quit when Vastlands was no longer online. We thank you for your cooperation.

Remember play on!
Howdy guys!
It's finally here - Vastlands brand new major update. We've added a ton of awesome new game modes. We're extremely excited to bring this update to you guys.
▶ What's new in this update
Added BedWars Gamemode
Added Duels Gamemode
Added Skyblock Gamemode
All previous ranks for SkyCastia has been merged into Vastlands*1
▶ Bug Fixes
Fixed lag spikes
Games will now send you back to the lobby if an error occured
Fixed a bug where it wouldn't send you to a new game
/sell has been fixed for premium players (on skyblock)
Fixed island list GUI for skyblock
Punishment command for staff has been fixed
▶ Future Updates
We all understand how you all love SkyBlock, we're pushing to fix all the bugs and add new things to that minigame. We've got a big update coming very soon to Vastlands. Follow our twitter @VastLandsMC and join our discord group Discord.Vastlands.net
Remember Play On!
*1 - If for some reason you did not recieve your rank fill out a Purchase Support Ticket
Over the past weeks, I've worked/pushed a few patches to these following games above! Fixing all those annoying bugs!
If you encounter a bug or any other issues while playing, be sure to report it at the appropriate section!
Below is the list of the changes that I recently made:
MurderMystery
Fixed an issue where the innocents would lose if the game time was over.
Fixed an issue where both the Murderer and the Detective role was impossible to get.
Fixed an issue where the game didn't update the player stats after finishing.
Added working scores.
Improved performance.
Fixed an issue that was causing lag spikes on (LOBBIES)
EggWar
Fixed an issue with the shop/redesigned it.
Fixed an issue with team upgrades/redesigned it.
Fixed an issue where the game didn't update the player stats after finishing.
Improved performance
Fixed an issue where Yellow would show as dead (TEAM MODE)
Fixed an issue that was causing lag spikes on (LOBBIES)
Lobbies
Fixed an issue where the balance system would disconnect players if Lobby-1 was full.
Fixed an issue where VIP or above ranks would get kicked on full lobbies.
Daily rewards (active on all sub-servers under our Network)
Fixed an issue where ranks you bought wouldn't sync.
Boost performance, and fixed some memory leaks. [8/18/2017]
Added a fully working Lobby Balancer. [8/18/2017]
Fixed an issue where it would drop the server TOS upon creating a party
Party System
Added a feature where any party message will be canceled if you have less than 1 members.
The "@" will no longer be shown in party messages.
Improved the transfer system, would make sure transferring the leader & members is the first priority!
Fixed an issue where players were stuck on parties if the leader disbands the party. [8/18/2017]
Added a feature where party members will automatically be placed on the same team. [8/18/2017]
Fixed an issue where players were getting an error while trying to leave a party [8/18/2017]
Improved the system a little bit!
Silvia (Vastlands ANTI-CHEAT)
First introduced to Vastlands on Aug 11
Fixed an issue where it would detect high ping players as (hacking)
Notifies staff of possible hackers
Added more checks to it! (Way smarter)
New Game Modes
TNTRUN [8/18/2017]
Simon Says [8/18/2017]
These fixed above will sure make Vastlands more enjoyable!
Before you can apply for staffs, We've placed a requirement.
Those are:
1.
Active on the forums. This includes helping other users, etc,
2
. Knows about Vastlands, and the features it contains, links to almost everything.
3.
Been playing on the Network for more than 2 weeks.
4.
Has a twitter account (and is able to also download discord)
5.
A
WORKING
microphone
[Added on 7/27/2018]
More information can be found
HERE
​
Hey guys,
It's officially here - Vastlands brand new major update. We've added a ton of awesome new game modes. We're extremely excited to bring this update to you guys.
▶ What's in this update?
A new lobby map & info board.
EggWars release!
SurvivalGames release!
SkyWars release!
All new lobbies cosmetics, wardrobe
Lots of bugs fixed to lobbies, and some existing games.
New advantages for players with ranks!
Session system (You don't ever have to log-in again, after logging in for the first time)
Player Control Panel
Cosmetics Control Panel
▶ Wardrobe
You can now show your style while on lobbies! Get fancy all you want; and show off those pretty styles of yours. Introducing Vastlands Wardrobe.
Don't worry. There's a TON to choose from. You can active these at the cosmetics control panel!
▶ Particle effects
We notice they were not working, we fixed that issue and also patched up some bugs. Particles are now WAY better than before.
Choose the best ones to match your style. You can active these at the cosmetics control panel!
▶ Player Control Panel
We made some major changes to our lobby, this once makes the way you do things more easily... You can now make changes to your profile via an in-game control panel. Easy to use. Just follow the instructions.
▶ Cosmetics Control Panel
You can now add/remove or altered a cosmetics via the Cosmetics Control Panel. This makes things more easily and quickly to use.
▶ Lobby sessions
From now on, after you log-in. You don't ever have to log in again. We've created a session system that syncs in everything other Vastlands sub-servers needs. But again, we also improved our authenticated system, you"ll only be required to log-in if you're using a new device.
▶ Future of SkyWars & SurvivalGames and the Network
This update is a big step for Vastlands Network, it took us a lot of work to get here. Vastlands is constantly getting updates by me, I'm one of Vastlands Founder(s) and it's only Lead Developer. So far, I (We) achieved lots without help! However, that doesn't mean the work is over! We've absolutely loved your response so far and will continue to support and improve All games on Vastlands Network.
Your feedback/bug reports for the past few months has helps us a lot.
Follow us on Twitter to keep connected with us, everywhere you go! And for future updates! @
VastlandsMC
What are you waiting for? Start grinding on Vastlands Network now!
Hey, there fellow Vastlands staff!
I have some important and urgent news to announce

We're switching our official staff hangout from Slack to Twitter.
We're now requiring all staffs to register themselves a Twitter account.

What do you mean by staffs?

- Trainee, Mods, SrMod, Admin

How to get started?

- Remove the Slack app on your mobile devices
- Download the Twitter app on either IOS or Android.
- Register an account

- When done, reply here with your TWITTER USERNAME, so we can continue
on adding you to our staff chat/team.

Again, this is URGENT​
Hi,
Before we begin, I want to let you know, that this thread is directed to
donor
ranked players!
So, assuming you've continued on, I will also adress you as a ranked player.
Since you've purchased your rank, whether it be
VIP
,
MVP
,
LEGEND
,
or
TITAN
, you've been entitled to some special perks and privileges.
All ranked players have access to the following:
/fly
/nick
/kit <rank name>

It is very important that these commands are not abused.
To make this very clear:

/fly is not permitted in minigames such as Murder Mysteries, and Bedwars. Nor is /fly permitted in Warzones in Factions and Kit PVP.
If you are flying in the wilderness, and you get combat tagged, you MUST DROP down untill you are out of combat.
This policy is taken very seriously among our team, and consequences get even more serious if you continue to abuse your priveleges.
You may use /nick for other players, **AS LONG AS THEY WISHED TO BE NICKED.
Please do not nick names that are longer than 20 characters due to spam.
Players with access to /v, MAY NOT:
•PVP in vanish
•Vanish other players who don't wish to be vanished
•Raid in vanish

Abuse of the following will result in a temporary ban.

Also, you set a role model for other players, so please don't encourage rule breaking, etc.
We hope you enjoy your time on Vastlands, and Happy Belated Easter!
Much love,
The Vastlands Staff Team <3
----------------------------------------------
Unbanned unfairly?
Appeal here!
Purchase issues?
Report here!
Lonely and need a friend?
Chat here!
Found a bug?
Report it here!
Reporting a player?
Report it here!